Ticonderoga Class Cruisers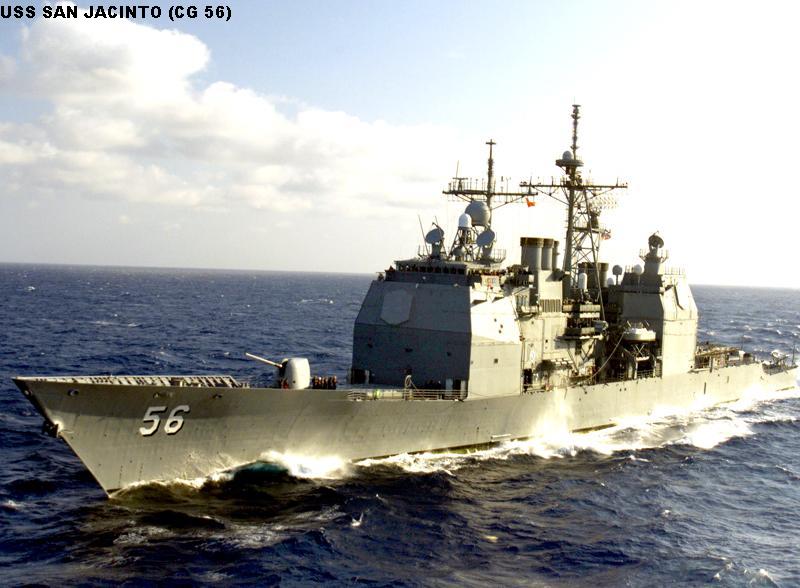 Ticonderoga class (VLS Group) also known as Flight II and IIA (22 ships).
Displacement
: 9,500 light tons/ 9,800-10,100 tons full load
Dimensions
: 567 x 55 x 32 feet/172.8 x 16.7 x 9.7 meters
Propulsion
: 4 LM2500 gas turbines, 2 shafts, 80,000 shp, 30 knots
Crew
: 387
Radar
: 4 SPY-1B phased array multifunction (SPY-1A in CG 52-58), SPS-49(V)6 2-D air search, SPQ-9A search
Sonar
: SQQ-89(V)3 suite with SQS-53 LF active/passive bow mounted, SQR-19 TACTAS towed array
(SQS-53A in CG 54-55, SQS-53B in CG 56-60, SQS-53C in CG 61-73) (CG 52-53: SQS-53A only)
Fire Control
: Aegis AAW system; 4 Mk 99 SM-2 guidance systems with SPG-62 radars; CEC in CG 66, 68, 69, 71.
EW
: SLQ-32(V)3 intercept/jammer, Mk36 or Mk50 SRBOC decoy RL, SLQ-25A Nixie torpedo countermeasure
Aviation
: midships helicopter deck with RAST, 39 x 29 x 15 foot/11.8 x 8.8 x 4.6 meter hangar; 2 SH-60B helicopters
Armament
: 2 61-cell Mk41 VLS (122 Standard SM-2, VLA and Tomahawk), 8 Harpoon SSM,
2 5"/54cal DP, 2 20mm Phalanx CIWS, 2 triple 12.75 inch torpedo tubes (Mk46 torpedoes), 2 25mm
Bushmaster low-angle in most, 2-4 12.7mm MG.
These ships are unofficially separated from the first 5 units of the class, which have major weapons
differences. It is reported that most of the SQR-19 towed arrays have been placed in storage ashore.

Builders: Litton/Ingalls SB, Pascagoula, MS (lead) and Bath Iron Works, Maine; CG 51, 58, 60, 61, 63,
64, 67, 70 by BIW; others by Ingalls.

Design: Spruance-class hull with extensive modifications to accommodate the Aegis system. Weight
problems have been partially resolved, but these ships are at the upper limits of the hull's capabilities.
There are extensive differences among these ships, particularly with regard to combat systems (AEGIS)
equipment.

Modernization: Some incremental updates have taken place, particularly in the AEGIS system; all ships
underwent major overhauls in 1997-2000. Some hull stiffening has been carried out to correct potential
cracking problems. A major upgrade/life extension, the Cruiser Conversion Program (CCP), is in the
planning stages. This project would extend the life of these ships to 40 years, allowing the oldest units to
serve until 2020. CCP probably will include AEGIS upgrades (bringing all ships to a common baseline),
removal of the VLS reload cranes (providing 6 additional VLS cells), replacement of CIWS by ESSM,
addition of Cooperative Engagement Capability (CEC), new EW systems and decoys, and maintenance/
manning-reduction improvements. Some ships will receive Navy Theater Wide ballistic missile defense
systems, while other will receive less comprehensive ballistic missile defense systems.


| Number | Name | Year |
| --- | --- | --- |
| CG 52 | Bunker Hill | 1986 |
| CG 53 | Mobile Bay | 1987 |
| CG 54 | Antietam | 1987 |
| CG 55 | Leyte Gulf | 1987 |
| CG 56 | San Jacinto | 1988 |
| CG 57 | Lake Champlain | 1988 |
| CG 58 | Philippine Sea | 1989 |
| CG 59 | Princeton | 1989 |
| CG 60 | Normandy | 1989 |
| CG 61 | Monterey | 1990 |
| CG 62 | Chancellorsville | 1989 |
| CG 63 | Cowpens | 1991 |
| CG 64 | Gettysburg | 1991 |
| CG 65 | Chosin | 1991 |
| CG 66 | Hue City | 1991 |
| CG 67 | Shiloh | 1992 |
| CG 68 | Anzio | 1992 |
| CG 69 | Vicksburg | 1992 |
| CG 70 | Lake Erie | 1993 |
| CG 71 | Cape St. George | 1993 |
| CG 72 | Vella Gulf | 1993 |
| CG 73 | Port Royal | 1994 |